BEETROOT-CURED SALMON BLINIS, APPLE-PICKLED CELERY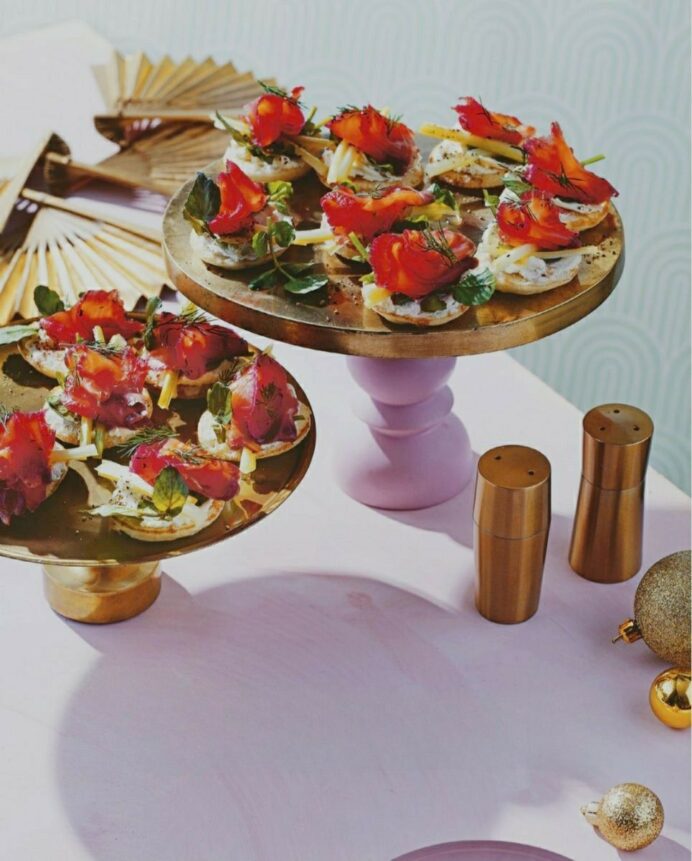 Adalheid Klein October 26, 2022 Recipes
Makes 40
(Begin this recipe 1 day ahead.)
Ingredients :
? 1 cup (220g) caster sugar
? 1 cup (300g) rock salt
? 10g black peppercorns, roughly crushed
? 1 bunch dill, stems and leaves chopped
? 1 small beetroot, grated
? 1 tbs gin
? 500g piece salmon, skin on, pin-boned
? 125g cream cheese
? 2 tbs horseradish relish (from specialty stores-substitute horseradish cream)
? 2 x 168g packs store-bought blinis
? 2 cups picked watercress leaves
Apple-Pickled Celery:
? ? cup (60ml) cloudy apple juice
? 1 tbs caster sugar
? ? cup (60ml) apple cider vinegar
? 4 celery stalks, trimmed, chopped into thin 7cm batons
Method :
1. Combine sugar, salt, pepper, dill, beetroot and gin in a bowl and mix well to combine.
2. Place half the sugar and salt curing mixture on two layers of plastic wrap. Top with the salmon, skin-side down, and cover with the remaining curing mixture. Wrap securely with extra plastic wrap. Place in a deep-sided tray and top with cans of food to weigh down. Refrigerate for 24 hours.
3. Remove the salmon from the plastic wrap and wipe away any remaining curing mixture with a paper towel. Thinly slice the salmon away from the skin. Discard skin. Refrigerate, covered, until ready to serve.
4. Meanwhile, for the apple-pickled celery, place all the ingredients in a bowl and mix to combine. Set aside for 1 hour or until the celery softens.
5. Combine the cream cheese and horseradish relish in a bowl and season with salt flakes and freshly ground black pepper. Spread over the blinis and top with the watercress, apple-pickled celery and salmon to serve.
RELATED ARTICLES
Photos of BEETROOT-CURED SALMON BLINIS, APPLE-PICKLED CELERY

Leave Your Reply on BEETROOT CURED SALMON BLINIS, APPLE PICKLED CELERY