Barbecued Prawn Cocktail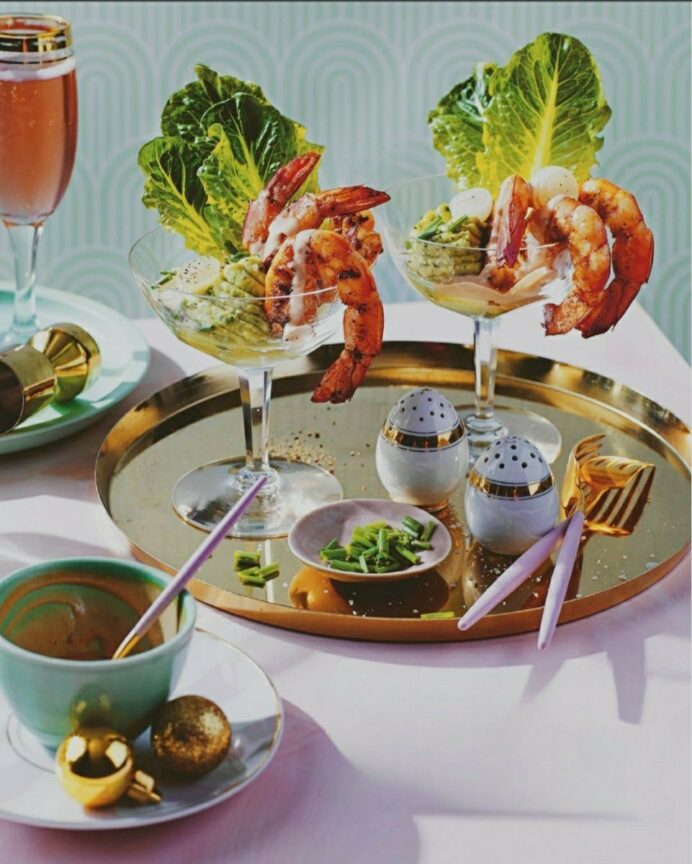 Arick Schubert October 26, 2022 Recipes
Serves 4
Ingredients :
? 1 tbs each whole egg mayonnaise, tomato sauce and pure (thin) cream
? 2 tsp Worcestershire sauce
? 1 tsp Tabasco sauce
? 2 (460g) large avocados, halved
? 1 cup coriander leaves
? ? cup (60ml) lime juice
? 12 large green prawns, peeled, tails intact
? 1 tsp smoked paprika
? 1 tbs extra virgin olive oil
? 1 baby cos lettuce, trimmed, leaves separated
? ? cup small (cocktail) pickled onions, halved
? ? bunch chives, chopped
Method :
1. Place the mayonnaise, tomato sauce, cream, Worcestershire sauce and half the Tabasco in a bowl, season with salt flakes and freshly ground black pepper and whisk until smooth. Set aside.
2. Scoop avocado into the bowl of a small food processor, add coriander and lime juice, season with salt flakes and whiz until smooth. Transfer to a piping bag and refrigerate until needed.
3. Preheat a barbecue grill or chargrill pan over high heat. Place prawns, paprika, oil and remaining Tabasco in a bowl. Season and toss to coat. Grill the prawns for 2-3 minutes on each side until just cooked through.
4. Pipe the avocado puree into 4 glasses, layering with the lettuce, prawns and onion. Drizzle over cocktail sauce and sprinkle with chives to serve.
Photos of BARBECUED PRAWN COCKTAIL
Leave Your Reply on BARBECUED PRAWN COCKTAIL