FOUR-CHEESE ARANCINI WITH MOJO VERDE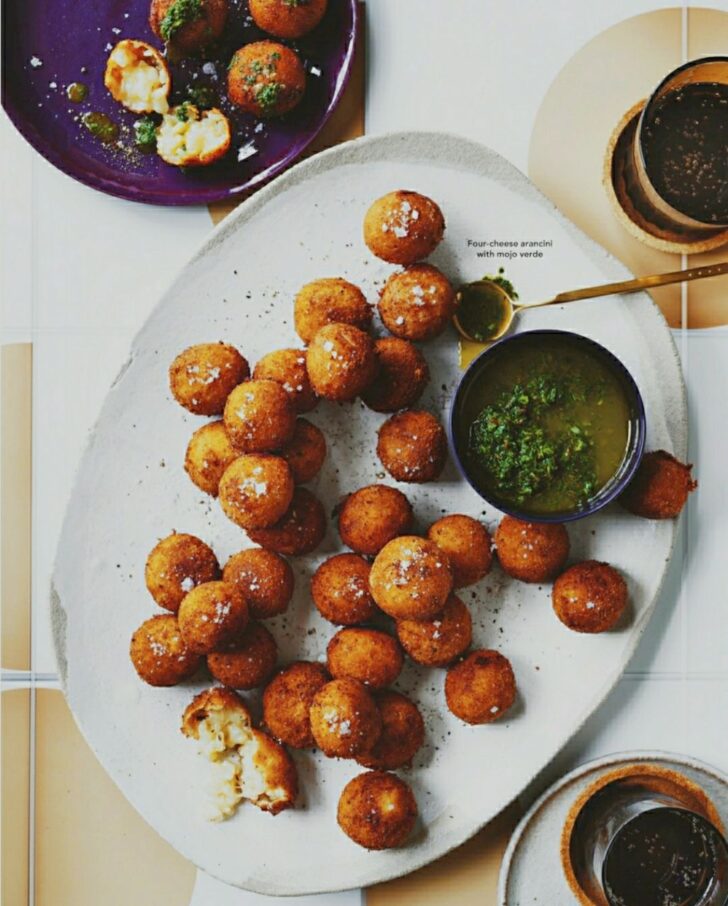 Archibald Peters October 26, 2022 Recipes
Makes 45 (APPROX.)
Ingredients :
? 1 tbs extra virgin olive oil
? 50g unsalted butter
? 1 small onion, finely chopped
? 300g arborio rice
? 200ml dry white wine
? 4 cups (1L) chicken stock, warmed
? 2 tsp freshly ground black pepper
? 125g Comt?, grated
? 1 cup (80g) finely grated pecorino
? 100g Le Dauphine cheese, chopped (substitute triple cream brie)
? 200g mozzarella, grated
? ? cup (75g) plain flour
? 4 eggs, beaten
? 2 cups (200g) dried breadcrumbs
? Vegetable oil, to deep-fry
Parsley Mojo Verde:
? 1 bunch flat-leaf parsley, leaves and stems roughly chopped
? ? bunch fresh oregano, leaves picked
? 1 garlic clove, roughly chopped
? 1 tsp cumin seeds, toasted
? 2 tbs apple cider vinegar
? ? cup (125ml) extra virgin olive oil
Method :
1. Place olive oil and butter in a large saucepan over medium-low heat. Add onion and cook, stirring, for 3 minutes or until softened. Add rice and cook for 1 minute, stirring to coat the grains, then add wine and simmer for 1-2 minutes or until almost evaporated. Add warm stock, one ladleful at a time, stirring constantly and making sure all stock is absorbed before adding the next ladleful, until all stock is used and rice is al dente. This will take about 18-20 minutes. With the final ladleful, stir through the pepper and cheeses and season with salt flakes. Spread rice mixture over a tray and cool slightly, then chill for 30 minutes or until firm.
2. Meanwhile, for the parsley mojo verde, place all ingredients in a blender and whiz until smooth. Season and set aside.
3. Place flour, egg and breadcrumbs in three separate bowls. Roll 1 tbs-sized portions of rice mixture into balls (you should make approximately 45 balls). Roll each ball first in flour, then egg, then coat in breadcrumbs. Chill for at least 1 hour or until firm.
4. Half-fill a deep-fryer or large saucepan with vegetable oil and heat to 180?C (a cube of bread will turn golden in 45 seconds). Working in batches, fry arancini for 3-4 minutes until golden. Drain on paper towel. Keep warm in a low oven, then serve with the mojo verde.
RELATED ARTICLES
Photos of FOUR-CHEESE ARANCINI WITH MOJO VERDE
Leave Your Reply on FOUR CHEESE ARANCINI WITH MOJO VERDE